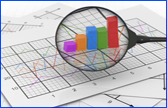 How can FinancialController.ie help you?
As the owner/manager of a business you need the support of an efficient finance function. You want timely financial information, no nasty surprises and of course you want to be compliant with tax and other statutory obligations.
To achieve this you must have the appropriate level of finance experience involved in your business. This is what Financial Controller Online offers. With our support you can get on with operating your business with the confidence that your finances are under control and most importantly, you can achieve this at an affordable cost.